I swear in just the past week or two Makaylee has grown up SOOOOOOOOo much. Her first two teeth are finally starting to poke through. Right on the bottom. The white is just starting to show, though they have brought us a couple of screaming nights. But she seems to be doing better now that they are breaking through. It is super difficult to get a picture yet, but as soon as they start to come up more I promise a picture.
We had our second snow fall of the year this week and boy was it a good one. We got 2 inches at the beginning of the week, and then a couple days later we got at least 6 inches! The most snow I have ever seen up here. It has been below freezing ever since, so the snow is not gowing away at all. In fact our yard is still completely covered in snow. Here is a picture of Makaylee in her snow suit in the snow: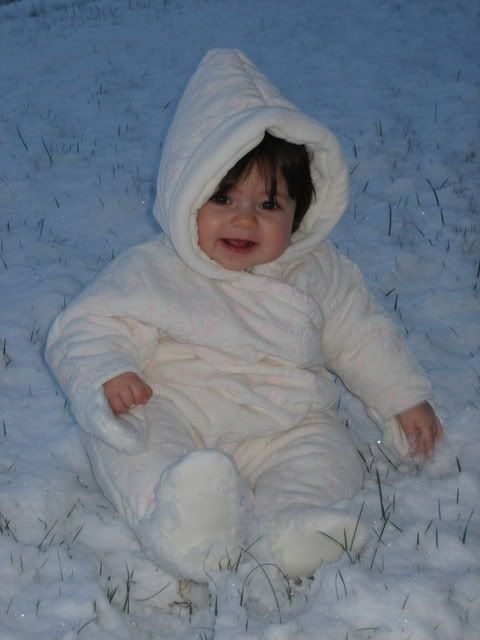 Here is a picture of the amount of snow we got: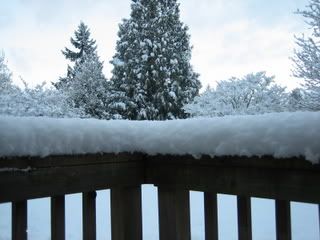 Ok, so about Makaylee growing up. Last week I showed the video of her clapping, I don't have a video of it yet, but she is trying so hard to do the "rolling" part of Patty cake.
She has been standing for awhild now holding onto things, but she has really gained confidence now. She loves to stand on her own holding on, and even started "cruising" along the table. Her favorite thing to do is have her activity table and incrediblock set up by the coffee table and she will stand there switching between the three of them forever. Here is her favorite set up: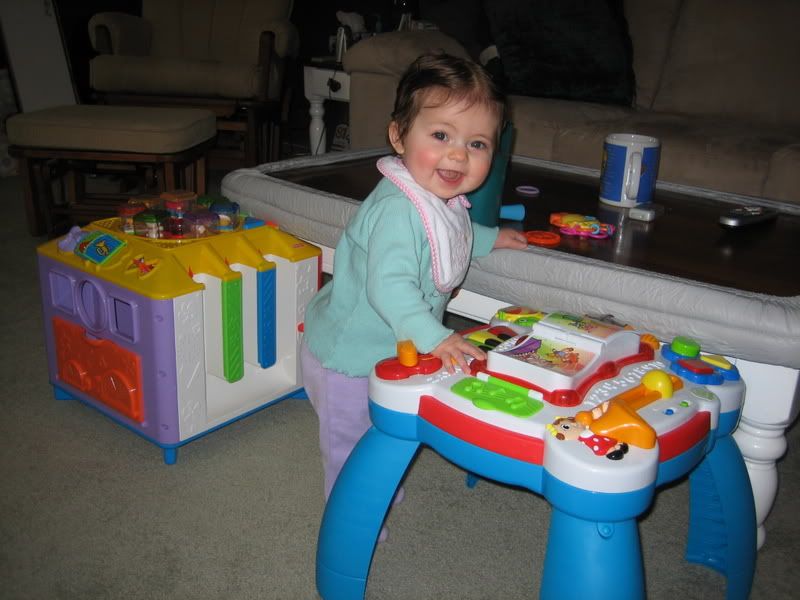 She is also standing with one hand really well. In fact she is almost standing on her own. She started letting go a couple of times today but quickly grabs right back on. Here is her balanced holding on with one hand: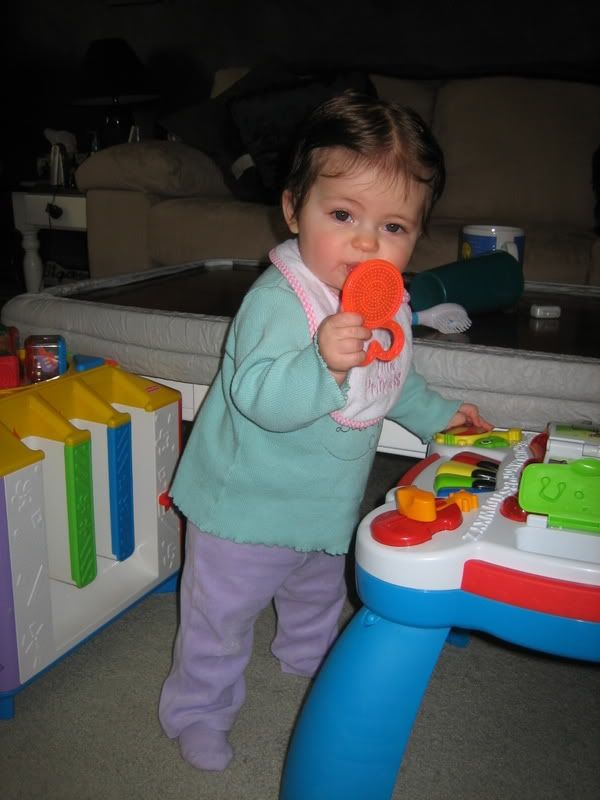 Doesn't she just look so big? She can walk with her walk behind toy now. We still hold on to her because she will lean to one side sometimes and it goes pretty fast and she cannot always keep up, so we keep it slow. Her favorite thing to do in the walker is chase the dogs all around the floor and she can really keep up with them. She can get around any obstacle and back herself out of corners and everything really well. She even gets up and down our narrow hallway really well.
Makaylee has started feeding herself. If we put the spoon in the bowl she will pick it up and put it in her mouth. But then she chucks it back on the tray, we cannot get her to re-dip the spoon, but if we put it back in the bowl she picks it right back up. When we read her a story she turns the pages for us now, sometimes before we are done reading the page, but she loves to turn the page so we let her go fast.
And finally she signed her very first sign tonight. I was sitting there feeding her dinner and she signed Milk. We asked if she wanted Milk and sure enough she did it again. She did it a couple of times while she was drinking her bottle too. I would take the bottle away and ask her if she wanted Milk and she would do the sign. I cannot believe it. So much in such a little time! It is so exciting and so sad at the same time. She is really growing up. I guess that 8 month mark she hit on Thursday was a big turning point :)