Ok, so bad blogger :) I really am sorry. I will try and do better. So rather than talk your head off with all the boring stuff that has been going on, I will mix it in with video and pictures. Makaylee is getting nice and big. I officially packed up all her 0-3 month clothes. SO sad. Her newborn clothes were at the bottom of the bin. I cannot believe she has grown that much in 3.5 months! It is amazing. She is reaching for things and starting to play. Her she is playing on her floor matt. She LOVES this thing. Especially the mirror. She has the best conversations with herself:
Makaylee is learning how to drink out of a sippy cup. She is doing really well with it, especially since it has the handles. We have to give her prune juice all the time to keep her regular.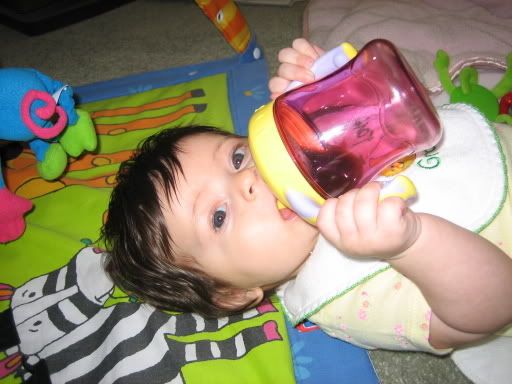 mmmmmmmmm, she loves her some prune juice!
We also made Makaylee's first trip to the Zoo. This was before we went in. She is a cool chick with the glasses. Getting a little top off so she has her strenght for the animals!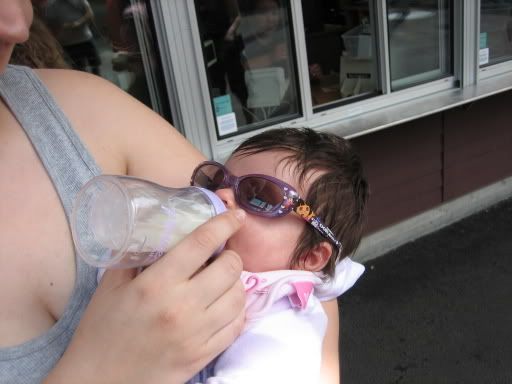 I think this is such a cool picture. She really loved looking in at the water: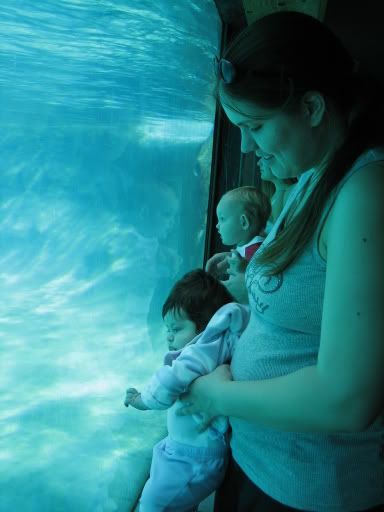 Her is her and Daddy at the Zoo. In the hotsling, she loves that sling!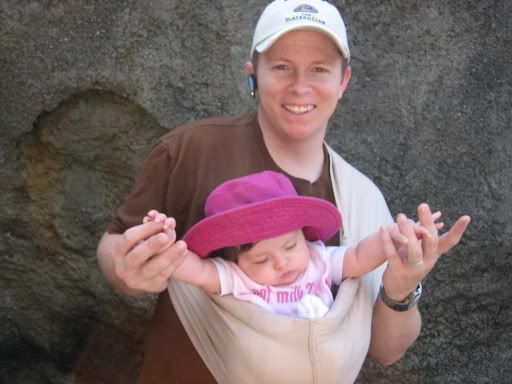 They had a carosel there. Makaylee's first one. She was not that impressed, but Mike and I had fun :)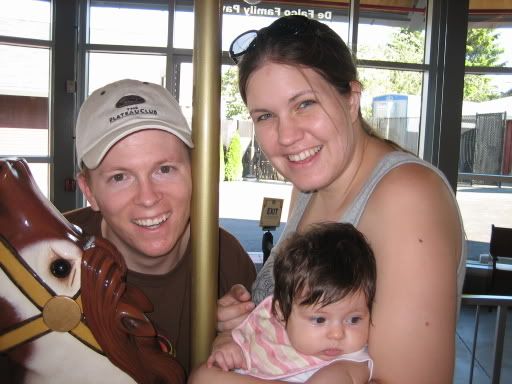 Auntie Meghan and Cousin Ethan came to visit and they came to the Zoo with us. This is a great Picture of Ethan: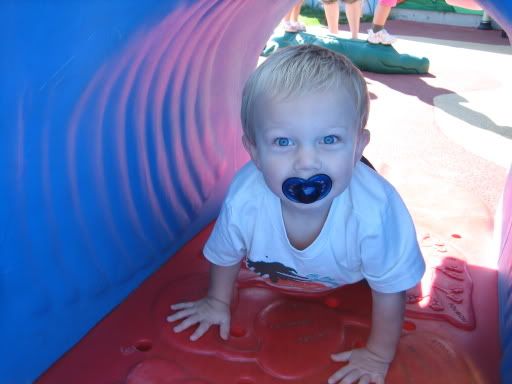 They rode the carosel too: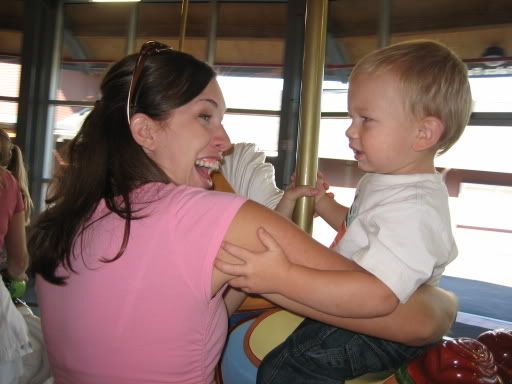 Makaylee also got some kisses from her cousin: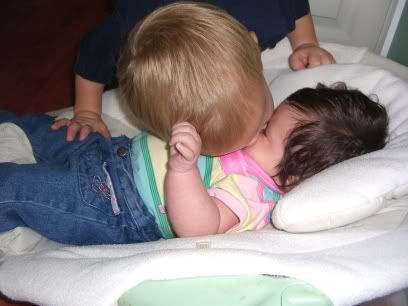 Makaylee has started really enjoying her exersaucer. She was so entertained, I couldn't get her to look at me for a picture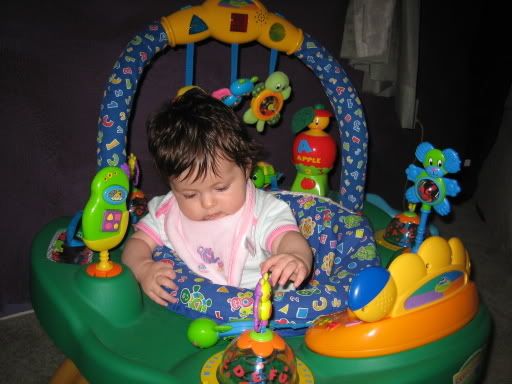 My baby got her first pony tail, sooooooooooooo cute: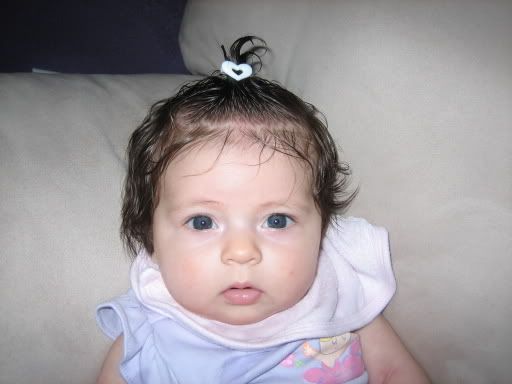 I bought a walker for Makaylee cause she loves to stand. But she was to short for it. Wouldn't you know it the cheapest walker was the one she could stand in. She can only go backwards right now, but we have hope she will catch on soon enough!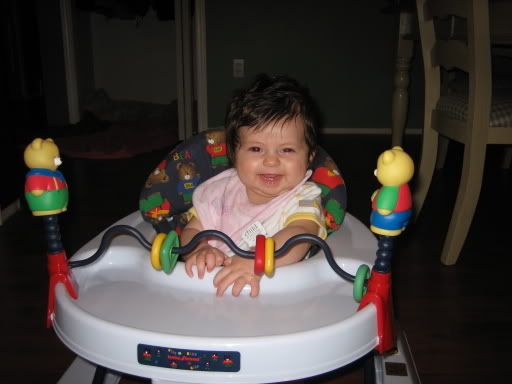 We are pretty sure Makaylee has started teething. She loves her gums rubbed. She also LOVES this toy on her gums. It vibrates, so we are guessing it feels like a littl mini massage on her gums.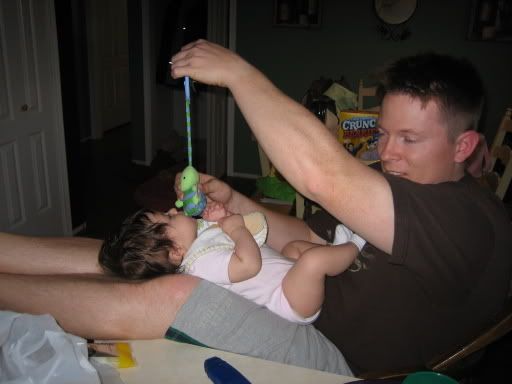 Today we went to Mason's first birthday party. Makaylee stole his walker and was having tons of fun. She was to short for this one too. Bailey was showing her the ropes on how to use all the toys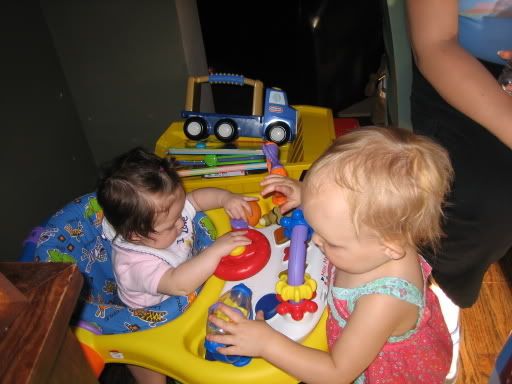 Here is the birthday boy himself with his cool truck cake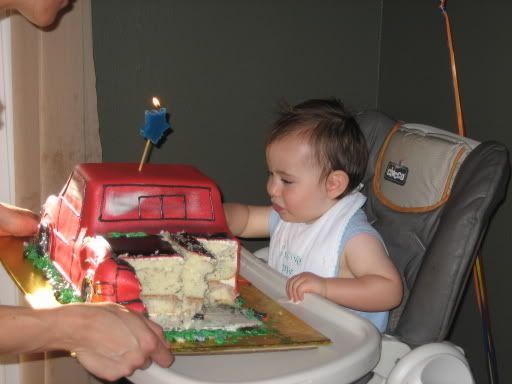 The party was sure a lot of work. Makaylee passed out on the way home