As a cheerleader in high school I think I had to listen to YMCA WAY to many times. I was a cheerleader all four years, and YMCA got played at almost every sporting even that we cheered at. You do that math. So if I never had to listen to YMCA ever again, that would be ok with me. Well, when you have a daughter who is obsessed with Elmo, you collect different elmo dolls. One of the elmo dolls we got somewhere along the way is the one that sings YMCA using E L M O. All of a sudden that doll has made it to the top of our toy basket and Makaylee loves to dance with him. Over and over and over and over again. Did I mention over again? So I thought I would share a video of her dancing with elmo:
I know, it is super cute! Makaylee has also become a little chatter box. She talks non stop all day long. But she is using real word now, not just toddler speach. She has an opinion on everything, and she will let you know it. She knows the sounds that all of her letters make. (ex S says ssssssss). We can go through the whole alphabet. She can count to 3, and almost 5, she just skips four sometimes. So we are working on that. She comes to get me as soon as she hears Kaiden crying, even if we are sitting in the same room. She tells me "Crying, check baby." Makaylee still loves Kaiden and wants to give him kisses all the time. Kaiden is starting to smile back at her and coo at her, so they do make a cute pair.
Kaiden is getting so big so quickly! He is starting to move into his 3-6 month clothes, though 0-3 clothes still fit. He has the opposite problem of Makaylee. She needs pants with a larger waist and short. He needs the skinny waist and long pants. What opposites! I actually think his eyes are going to stay blue. So Makaylee looks just like me with Mike's eyes, and Kaiden looks just like Mike with my eyes. How strange :) Kaiden's sleeping is still hit and miss. His gas is getting much better though. I now breastfeed all day and night. Except he gets one 4oz bottle of lactose free milk at night. This seems to make everyone happy, so it is a good system for us.
I have started doing a one stop shop for baths here to. Kaiden sits in his bouncy seat in the bathroom while I take a shower. Makaylee gets in with me, and I just fill up the tub while I am showering. Then when I am done I put Kaiden in the bath with Makaylee in his bath sling. Makaylee loves taking a shower with me and bath with the baby. Of course, she just loves the water, so she would stay in the tub for hours if I let her. Kaiden likes it because the bathroom gets all steamy and warm while I shower, so he doesn't get cold. Here they are in the tub:
Real men wear pink right? Kaiden is already in the large size swaddlers. I have two pink ones that are in perfect condition from Makaylee. So he gets to sleep in pink. shhhhhhhhhhh, don't tell him when he is a teenager ;)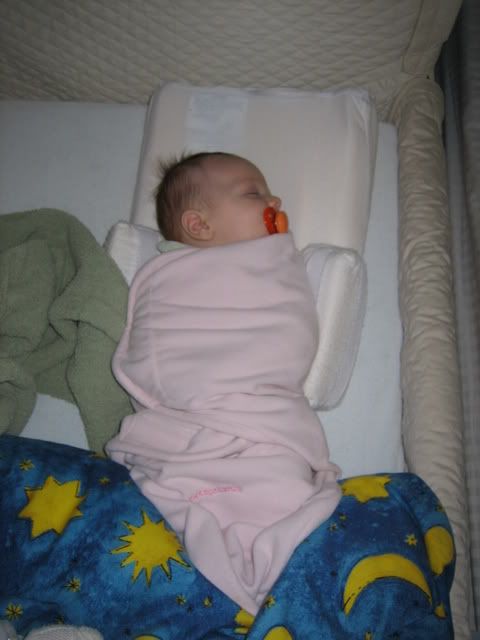 Just cause it is a cute picture, here is what I will leave you with: